Short Story
GOCARE 爱心教育众筹运动一
GOCARE CHARITY EDUCATION CROWDFUNDING 1
"Be a rainbow in someone else's cloud." 
• It cultivates loving kindness as a daily practice in life. And everyone has the opportunity to be someone's rainbow.
我们可以成为别人云中的一道彩虹。让他们在生活困难中看见色彩的希望。
每个人都有行善的机会,成为孩子们背后的彩虹。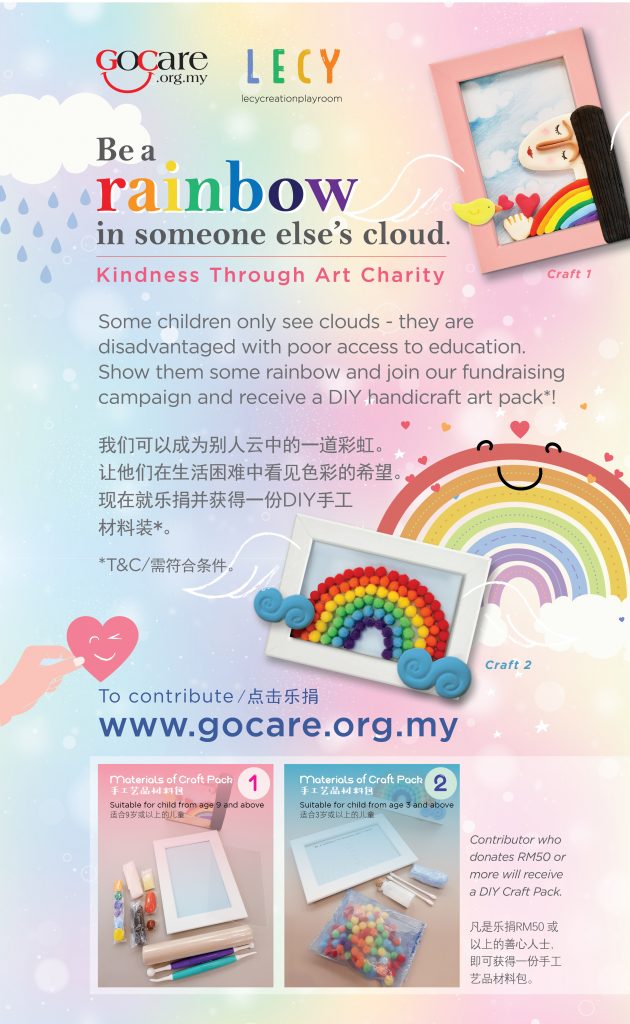 LECY X GOCARE KINDNESS THROUGH ART CHARITY
RM5,000.00

Funding Goal

RM3,441.00

Funds Raised

22

Days to go

Goal and Date

Campaign End Method
28 Campaigns | 0 Loved campaigns
Campaign Story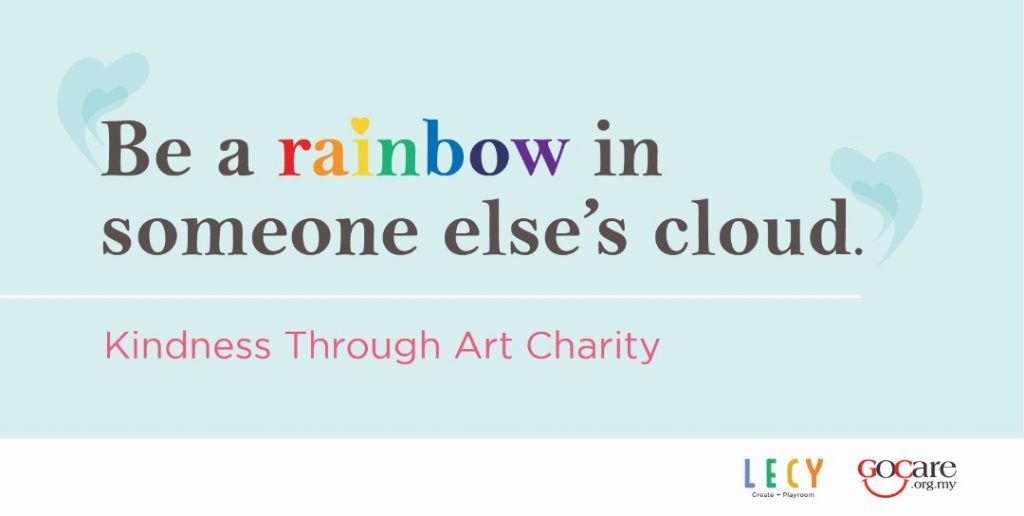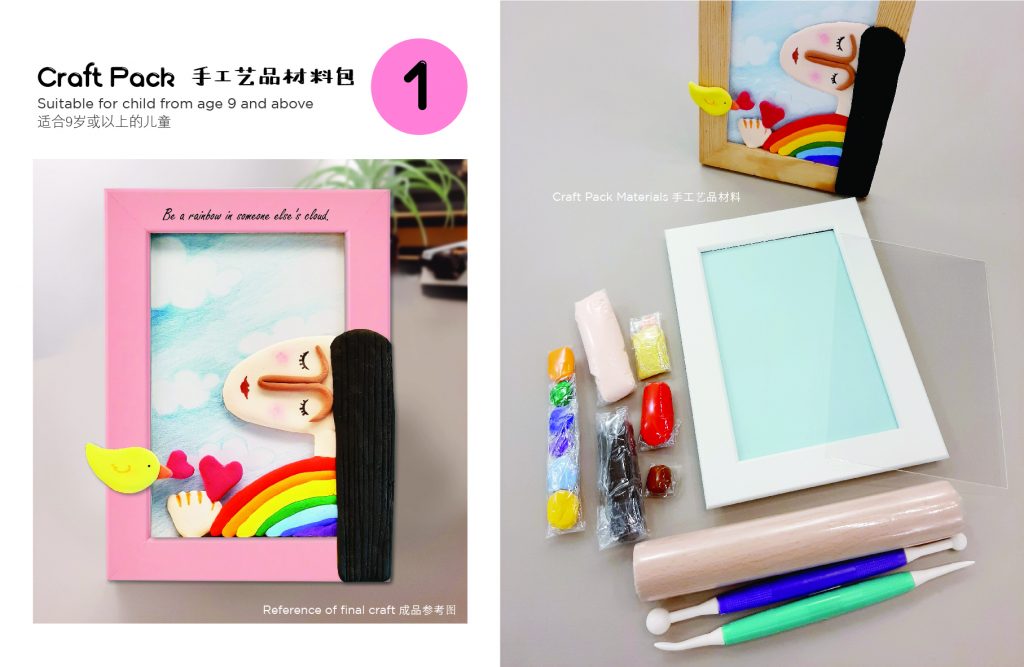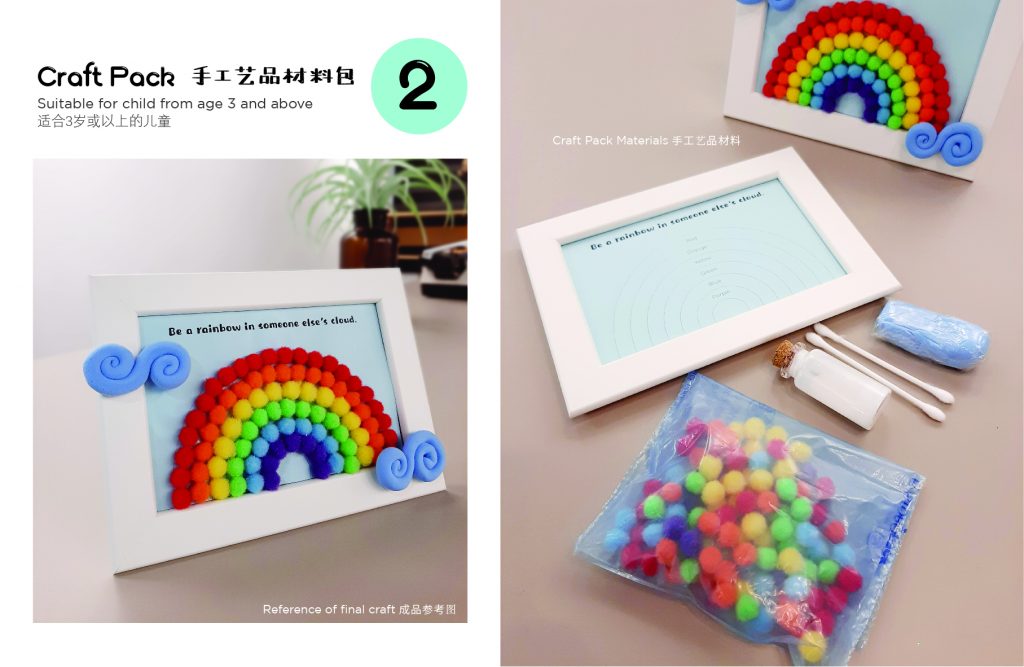 Objective
Encourage more caring person and do donation for those in need.
Fund that has been collected can be a little help for poor children in their education and others related needs, example: purchase stationery, books, tablet or laptop for study purpose .
Cultivate loving and kindness through art learning.
主要目的:
鼓励更多有爱心的善心人士捐款帮助有需要的孩子
筹募的款项可在教育方便帮助平穷有需要的学生,例如:协助贫穷学生购买文具,书本,平板电脑或手提电脑等。
通过艺术学习来培养爱心
Donate RM50 and above, choose one DIY Craft Pack from below:
乐捐RM50或以上,可获得以下 DIY 手工艺品材料包
DIY Craft pack 手工艺品材料包
Craft Pack 1: suitable for child from age 9 and above, 适用于9岁或以上的小朋友
Craft Pack 2: Suitable for child from age 3 and above,适用于3岁或以上的小朋友
×××××××××××××××××××××××××××××××××××××××
Shipping / pick up details
邮寄/自取
Every craft pack will also shipped together with one box of Solen chocolate, FREE SHIPPING (limited 30sets of chocolate until 20/6/2020 only). 每个DIY手工艺品材料包将会附送一盒土耳其巧克力,免运费 (限量30份巧克力于20/6/2020 可免费获取)。
For delivery/pick up, kindly allow shipping in 5 -10 working days after donation is made. (Kindly wait for the inform from GoCare office through whatapps).
捐款后,包裹将会在5天至10天工作日以内邮寄 / 自取。 请耐心等待GOCARE秘书处联络您。
For self pick up at LECY STUDIO @ Bandar Puchong
Monday to Friday 11am to 5pm.
Sat 11am to 2pm.
Please Call 012-720 9893 before collection.
××××××××××××××××××××××××××××××××××××××××××××
Tutorials on how to make the rainbow craft 手工制作教学:
1. How to make a rainbow with pom poms
https://youtu.be/EZPBx8Apksw
2. How to make a lady in rainbow
https://youtu.be/XsnJHYRIIwc
××××××××××××××××××××××××××××××××××××××××
Fund Receiver/ Organisation
Any poor children in underprivileged center who needs the fund in education help.
受惠单位 / 组织
More info about the beneficiary, please visit:
更多关于受惠单位的详情,可浏览:
教育慈善众筹运动 GOCARE CHARITY EDUCATION CROWDFUNDING CAMPAIGN
50% of the total fund collected will be donated to beneficiary NGO.
50%的款项将会捐助至受惠单位
Any Inquiries, please contact GoCare Office
任何疑问,可联络GOCARE秘书处
03-2203 3920
Rewards
RM

50.00
Craft Pack 2: Suitable for child from age 3 and above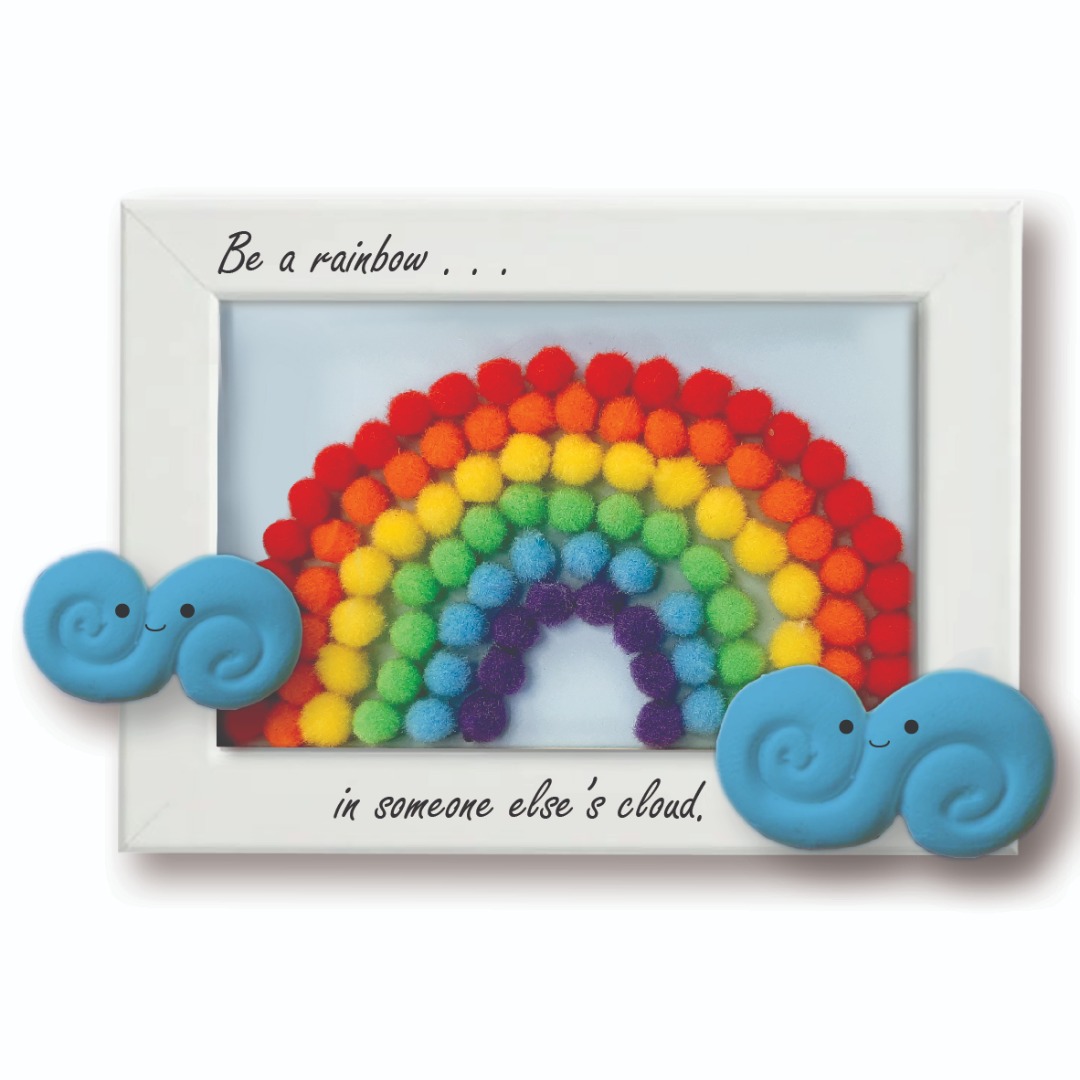 0 backers
RM

50.00
Craft Pack 1: suitable for child from age 9 and above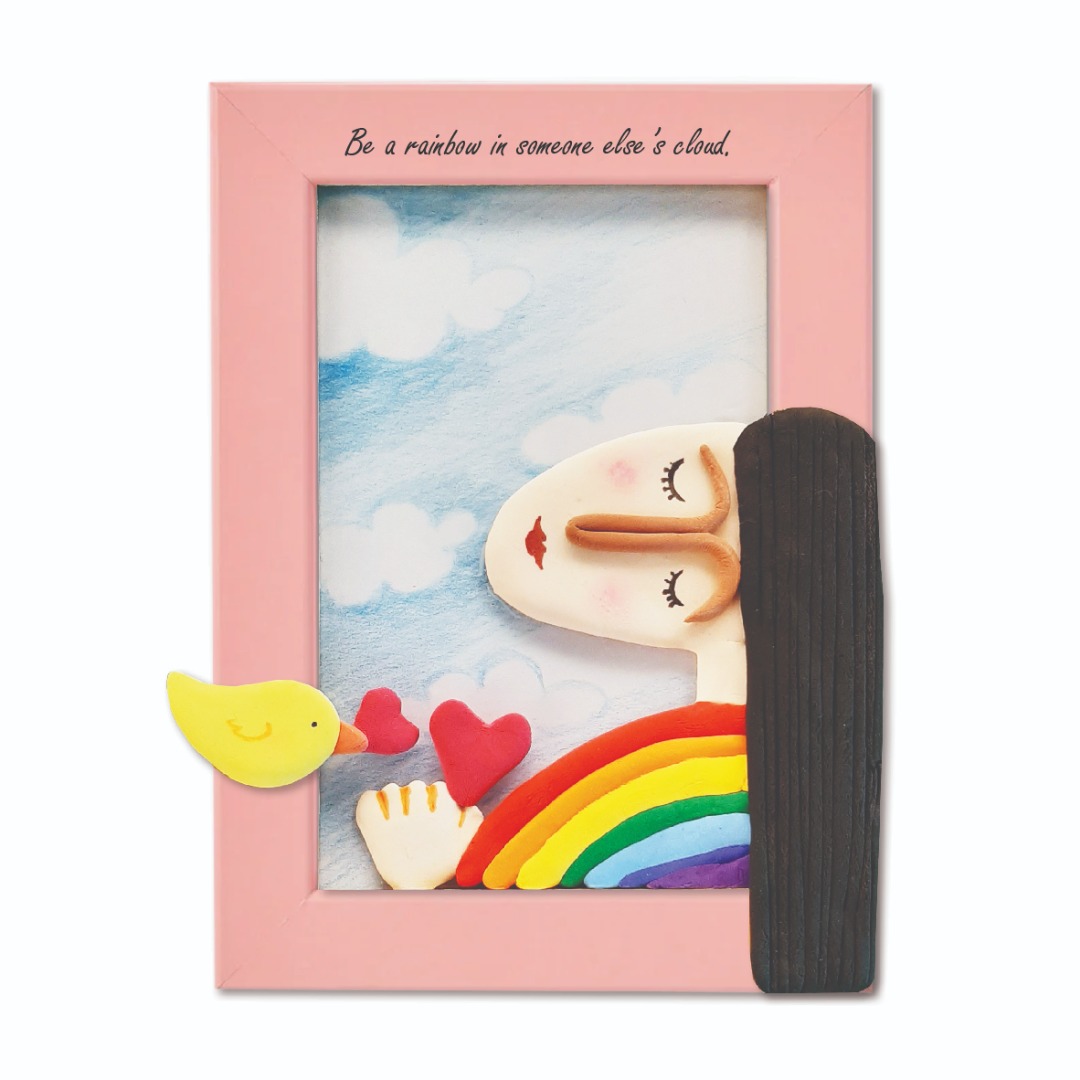 31 backers
Name
Donate Amount
Date
Anonymous

RM

50.00
August 14, 2020
Anonymous

RM

300.00
August 04, 2020
Anonymous

RM

50.00
July 17, 2020
Anonymous

RM

200.00
July 13, 2020
Anonymous

RM

200.00
July 08, 2020
Anonymous

RM

100.00
July 08, 2020
Anonymous

RM

100.00
July 08, 2020
Anonymous

RM

100.00
July 08, 2020
Anonymous

RM

100.00
July 08, 2020
Anonymous

RM

300.00
July 02, 2020
Anonymous

RM

200.00
June 29, 2020
Anonymous

RM

200.00
June 26, 2020
Anonymous

RM

50.00
June 26, 2020
Anonymous

RM

100.00
June 26, 2020
Anonymous

RM

50.00
June 26, 2020
Anonymous

RM

50.00
June 25, 2020
Anonymous

RM

300.00
June 16, 2020
Anonymous

RM

50.00
June 18, 2020
Anonymous

RM

150.00
June 14, 2020
Anonymous

RM

100.00
June 13, 2020
Anonymous

RM

51.00
June 12, 2020
Anonymous

RM

50.00
June 12, 2020
Anonymous

RM

50.00
June 12, 2020
Anonymous

RM

50.00
June 12, 2020
Anonymous

RM

100.00
June 11, 2020
Anonymous

RM

50.00
June 09, 2020
Anonymous

RM

20.00
June 08, 2020
Anonymous

RM

50.00
June 07, 2020
Anonymous

RM

100.00
June 06, 2020
Anonymous

RM

50.00
June 06, 2020
Anonymous

RM

50.00
June 06, 2020
Anonymous

RM

50.00
June 06, 2020
Anonymous

RM

20.00
June 06, 2020